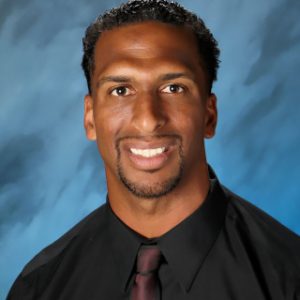 Kerry Taylor Electives Teacher/Head Football Coach

Arizona State University
Bachelors Interdisciplinary Studies
My Bio
I grew up in Chandler, AZ where I attended Hamilton High School. I then went on to play football at Arizona State University on a full ride scholarship. I was part of the 2007 PAC10 Championship team. After 4 years of playing football and graduating with my Bachelor's Degree I went on to the NFL where I spent 4 years playing wide receiver. After I stopped playing football I wanted to transition to the coaching side where I could help mentor young athletes and help them live out their goals and dreams.
Birthday: Feb. 20
These are A Few Of My Favorite Things…..
Color(s): Red 
Flower(s): Rose
Healthy Snack(s): Grapes
"Junk Food" Treat(s): Cookies
Drink(s): Gatorade
Scent(s)/Essential Oil(s): Fresh Cut Football Grass
Game(s): Football
Sit-Down Restaurant(s): Red Lobster
Fast Food Restaurant(s): Canes
Place(s) to Receive a Gift Card: Amazon
Most used school/office supply: Dry Erase Markers
What I would really like is: To be the best father and husband I can be.
Heroes: Bruce Arians
Hobbies: BBQ on the Grill, Lift Weights, Family Time