San Tan Charter School is committed to keeping students at their cutting edge of learning. Our Gifted program at San Tan's Power Campus offers advanced classes, extensive electives, and academic competitions.
Our Gifted Elementary and Middle School program resides at our Recker Campus while our Junior High and High School program is offered at our Power Campus.
Students identified as Gifted in Kindergarten receive individualized instruction in the advanced Kindergarten class.
The self-contained Gifted Elementary program runs from 1st grade through 4th
The Gifted Middle School program begins in 5th grade and maintains the self-contained model while incorporating classroom/teacher changes between subjects and choice of elective courses, intended to prepare the student for High School expectations.
The Gifted Junior High and High School program begins in 7th grade and is tailored to each student through Honors/Advanced Placement courses, academic competitions, and an extensive electives catalog.
If you feel you have a Gifted teen who has not yet been tested for Giftedness, please review our Gifted Information page to learn more about testing and program placement.  In addition, see how our Gifted Community is supporting our students, families, and school programs.
Gifted teens in 7th through 12th grades continue to receive the same high-quality education as their younger peers, although the standard multi-subject environment is introduced were teachers specialize in specific content areas and students change subjects each period.
The previous self-contained gifted class now has the option of moving as a cohort through core classes which allows the teachers to set an appropriate pace and depth of content that meets the needs of each individual student.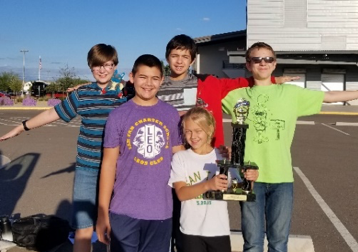 Advanced math students are offered the choice of accelerating to a math class that challenges their abilities accordingly.  Gifted students continue receiving accommodations, enrichment, and rigor for all courses.
Electives Geared Towards Gifted
Natural Talent Development
Robotics
Math for Mathematicians
Academic Decathlon
ACT/SAT Prep
Engineering
Business and Marketing
Forensics
Model UN
Odyssey of the Mind
Culinary Arts
STEM
Academic Competitions
Noetic Math Contest
Math Olympiad
Math League
Science Fair
STEM Fair
Spelling Bee
Geography Bee
Odyssey of the Mind
Model UN
Battle of the Books
College and Career readiness opportunities are available as early as 7th grade.  San Tan offers an array of Advanced Honors Courses, Advanced Placement Courses (AP), Dual Enrollment Courses, Concurrent Courses, Acceleration, as well as Independent Learning.
Advanced Placement
AP American History
AP Biology
AP Calculus
AP Chemistry
AP English Language
AP English Literature
AP U.S. History
AP World History
Dual or Concurrent Enrollment
College level classes offered at:
Power Campus
Chandler Gilbert Community College
Online
If you have any questions about our Gifted Program, please call us at 480-222-0811 or email Michelle Tischer.